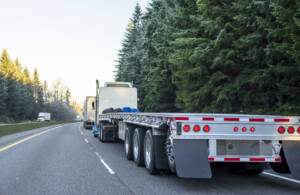 The trucking industry might seem straightforward to those on the outside. How difficult can it be to just hook up to a trailer and go? But owner-operators understand this isn't simply the case. If you want to transport your goods quickly, but safely, then you will need to have the right equipment. You might see most trucks pulling a standard dry van trailer, but there is a variety used by drivers today.
Let us look at the types and specifications of trailers out on the road today.
Dry Van
Dry van trailers are preferred in most cases, which is why they are the most frequently used to haul goods. They are completely enclosed, protecting the load from potential weather damage. The length of most dry van trailers is 53 feet, and they can carry a maximum of 45,000 pounds. A fully loaded tractor-trailer can weigh 80,000 pounds or 40 tons.
Flatbed
Some loads do not need to be confined into an enclosed trailer, so they are strapped to a flatbed. You have likely seen flatbeds on the interstate hauling heavy goods like lumber, landscaping, construction equipment, and building materials. They are just as long as dry van trailers but have an edge at being able to carry 48,000 pounds.
Refrigerated
In 1924, Clarence Birdseye went fishing on a very cold day in Canada. His story is a remarkable one and that fateful day changed the food industry forever. Back then, grocery stores didn't have freezers and the concept of a frozen dinner was unknown. That was until Birdseye pulled a fish out of the water and it immediately froze and was thawed out months later. He recalled how great the fish tasted and decades later, the first frozen dinners made their way to dinner tables.
Of course, to properly transport cold and frozen items, you need a refrigerated (or reefer) unit. It goes beyond frozen foods, as there are plenty of grocery products that need to stay cold, like milk. Drivers can operate reefer trailers by watching over the temperature inside, depending on the product being carried. Its specifications are the same as a dry van.
Removable Gooseneck
The removable gooseneck (or RGN) is a trailer designed to take on massive, oversized loads that won't fit anywhere else. Loads this size often are over the weight or height limit of standard trailers. Mainly used to haul equipment, the RGN has as many as 20 axles and can carry up to 150,000 pounds. It is shorter than a traditional dry van trailer at 29ft long, but they do have extendable versions if more space is needed.
Step-Deck and Lowboy
The step-deck and lowboy are designed mostly for tall loads. The usual trailer limitation is 11.5ft, but the step-deck and lowboy are two feet lower to the ground, giving more room so loads can clear. They are the same length as dry van trailers and can carry up to 43,000 pounds.
As an owner-operator, you get the privilege of being able to drive whatever type of load you desire. It's fine to stick with dry vans if you desire but keeping your options open can be great for your business. That is the kind of service Greatwide Truckload Management provides its drivers. You get to be your own boss and choose the loads that suit your needs.