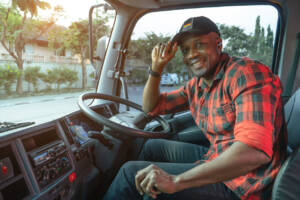 As Biden's approval rating continues to plummet, many are blaming the president for our current economic woes. With an inflation rate that's over 7%, it's undercutting wage growth by a large margin. With higher inflation, we continue to see empty shelves and supply chain issues across the country that only inflames the situation. When the supply is down, it only pushes prices even higher. The Biden Administration is now hoping to solve that problem.
The U.S. Transportation Secretary Pete Buttigieg has announced a plan to attract new truck drivers, hoping that it will iron out any kinks in the supply chain. The American Trucking Association says that the country needs as many as 80,000 new drivers to fill the gap. The problem with filling the seats has been high turnover rates as truck drivers flee the industry. When over 70% of all goods move through the country using trucks, a major shortage is not a good sign. Fixing the problem must be a priority.
The Department of Transportation has announced a $32 million fund that allows states to improve the process of getting a commercial license. Other trucking companies are also making moves to expand their apprenticeship programs. But for company drivers, it's not enough.
The Job Isn't Worth It for Many Company Drivers
Any longtime driver knows that it's a lifestyle not everyone is built for. You can spend weeks on the road, sleeping at truck stops, and eating nothing but fast food. Tough laws and regulations also make driving difficult. At the end of the day, many new drivers quit after they see the job isn't worth their time. Drivers can spend a lot of days sitting around and waiting…time they don't get paid for. If your wheels aren't moving, you aren't making money.
"I seen a guy just this morning. He'd been sitting up for three to four hours, just sitting there, just waiting to get his truck loaded. And he's not making any money," said Mickey Weaver, owner of a company that helps bring truckers and employers together. What everyone agrees on, including Buttigieg, is that a better pay structure for drivers will help retain workers and solve a large part of the supply chain issues.
The Biden administration is looking at different studies to see which would be the most proactive. One of their points of focus is detention time. Many drivers force themselves to work extra hours, even beyond the point of exhaustion, because they only get paid by the mile. Detention times take away their ability to make money, especially when the wait is many hours.
You might be reading the above and thinking it sounds horrible. Why would you want to be a truck driver in today's economy? But the reality is, it's never been better for owner-operators. The fact that the government is now talking about making major changes after decades of ignoring the industry is a homerun. They are desperate to get seats filled and more trucks on the road, which is only good for the industry as a whole.
That's only the beginning of the amazing benefits. There was a survey conducted in 2021 by Overdrive that looked at the compensation of owner-operators and found that 77% were paid a percentage of the load. Only 20% worked on a per-mile rate like most company drivers. This means that a majority of owner-operators, they don't have to worry about losing money waiting for the shipper.
This is why companies like Greatwide Truckload Management are perfect for owner-operators. They offer the stability of working with a company while also giving the freedom to run your own business as you see fit. They offer 100% non-forced dispatch so you can accept the loads you want to do when you want to do them. This combined with health coverage and choosing your home time makes it the perfect time for owner-operators.
If you've been searching for the right time to become an owner-operator, you're in the perfect spot. There's plenty of work as the industry is desperate for drivers. The pay has never been better and you get to run your own trucking company, even if you're leased with a company like Greatwide. The benefits are also pretty amazing.